I hope the Deena's blog header has peaked your interest in her newest fabric line "Scenic Route".  It is a wonderful line that is actually a remake of her first ever fabric line "Wheels".
I loved her Wheels line so much, that it inspired me to make my very first quilt…without any pattern I jumped in and created a simple quilt that took me a weekend to complete, it still gets lots of use at our house.  So imagine my delight when she told me about Scenic Route!  I love the softer pallet of this collection and the added critters makes it so cute.  In fact, this line was designed with boys in mind, but when I saw the critter print, I thought it would be great for girl projects as well.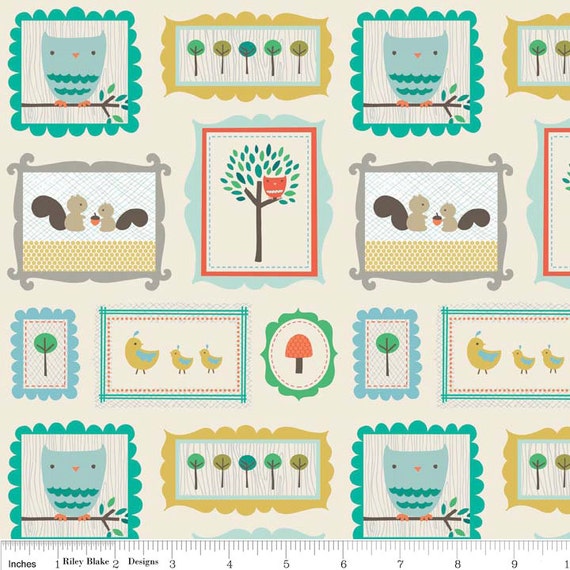 Adorable, right?! Those of you who love fabric may have heard of Quilt Market.  It is a trade show held twice a year where all fabric manufacturers display their latest lines for all the retail buyers to view and purchase for the upcoming year.  Scenic Route was featured at the last Market held in October of 2013.  It was a crazy one to prepare for!  Most fabric at Market is not in production yet, so as the designer, you only have a few yards of each print to make samples from.  Well, Riley Blake had a hiccup with their manufacturer and the sample fabric did not arrive until one week before Market, AND they only sent 3/4 of a yard of each print.  Deena and I had to scramble to make changes to our designs to work with what we had been given, not to mention some late nights of sewing (we had to call in the reinforcements….the talented Shana and Jessica willingly jumped in to help).  We designed 2 quilts for the line, the first we titled "Scenic Route" (why mess with perfection?) and the second, "Nature Girl".

The "Scenic Route" pattern is made up of machine appliqued blocks whose design mirrors the main print.  For those who want to make this pattern, I hope the applique does not scare you away…..applique is quite easy and fun, it just takes some time.  I took a class at one of our local quilt shops to learn the method I used, but there are so many excellent on-line tutorials to help you learn the process.  The appliques are also a perfect use of your scrap bin (we used RBD solids for most of ours), but adding in your own selection of prints can really personalize the design.  And what boy could resist all the roads to explore with their toy cars and trucks!  We also made a darling backpack, complete with pockets for holding a set of cars,for a day at the park or play date with a friend.  The pattern is designed by Fishsticks, and called "The Playdate Bag".  The "On the Go Reading Pillow"  was made following a tutorial from Melissa Mortenson of the Polka Dot Chair.

The "Nature Girl" pattern is such a quick and easy pattern…..again, don't be intimidated by the applique.  I just love the colors of this quilt, very feminine without being too cutesy.  We used a taupe gray as the base with lots of coral and soft aqua, green, pink and yellow…perfect use for that scrap stash!!  We made an owl softie to go along with the quilt, we will show you how to make it on an upcoming tutorial on the blog.
Now that you are inspired, wouldn't you like to make something too?
We have a great sale on all of Deena's older lines….$4.50 or $5.00 per yard!  AND free shipping on all orders over $18.  You can buy any combination of lines, 1/2 yard is the minimum cut, and most prints are available in multiple yards.  Enter this coupon code to receive free shipping: FREESHIP01.